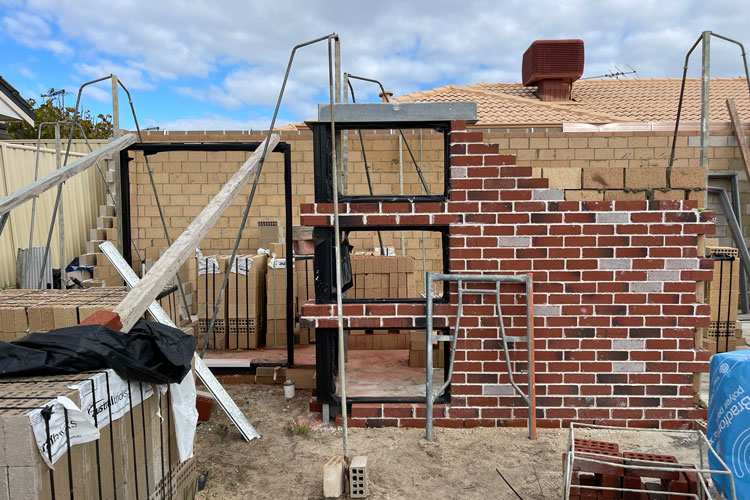 Works have begun on our NDIS Nollamara villa development
SDA Management Services WA is pleased to announce construction is well and truly underway on our three-villa site in Nollamara – with the brickwork now in full swing.
As you can see, our brick layer is making considerable progress! Brickwork is now complete on our first villa and the roof carpenters are ready to begin erecting the roof framing.
The bricklayers have started the second villa and with weather permitting it should be completed within the next two weeks, with works then commencing on the third unit.
Taking a closer look at the villa development
We've designed our three free standing Nollamara villas specifically for NDIS participants with very high support needs as well as ensuring these dwellings meet the NDIS Specialist Disability Accommodation category 'Robust'.
Each villa has two bedrooms and two bathrooms, giving participants the choice of being able to live independently in their own home, with the support of a full-time onsite carer.
Our vision is to see NDIS participants living in well-designed homes that enable their independence and provides privacy, yet still be close enough to facilitate connections with neighbouring participants.
Taking a closer look at the floor plans and elevations, we have incorporated accessibility features into the designs. Provisions have also been made to facilitate a participants individual needs with high physical support including, but not limited to:
Level transitions from all external access points including the garage.
Home automation tailored to individual requirements.
Extra garage space to accommodate a vehicle that uses ramps or roof mounted hoists.
An emergency power supply to allow for back up life support systems as required.
Provisions have been made to the building specifications for the installation of ceiling hoists in each villa between the participants bedroom and bathroom.
Large doorways and openings, plus wide passage ways to allow ease of movement and safe access between rooms and areas for wheelchairs and other mobility aides.
All door handles and light switches will be appropriately positioned to enable access for all dexterity abilities.
A landscaped sensory garden will be included in each internal courtyard.
Plus, our villas also meet the 'Robust' criteria, we've made additional provisions, which include, but are not limited to:
Solid core internal and external doors.
Laminated glass.
High impact wall lining, fittings and fixtures.
Secure windows, doors and external areas.
We look forward to sharing more updates with you as building works progress. Stay tuned!
---
Find out more about our Nollamara development
If you would like to know more, please send us an email or call 1300 121 765.  Be sure to follow us on Instagram or Facebook or subscribe to our email updates by registering your interest.