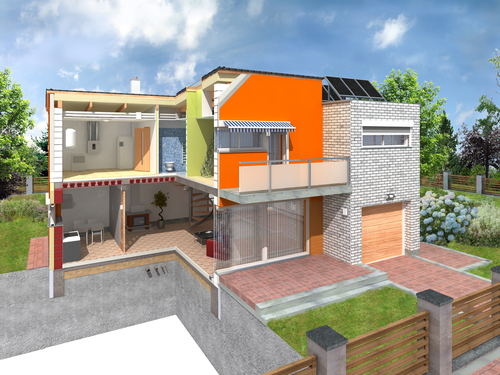 Looking to build your dream home?
Here are SOL Construction Director Nick Del Borrello's top tips for designing and building a luxury, custom home.
Speak to a reputable builder.

If you're looking to design your home, speaking to a reputable builder will give you peace of mind that your new design will be built within your budget.

Build smart.

When it comes to energy efficiency there are a few elements to consider in regard to design, orientation, materials and landscaping of your home.

New Home Design

In terms of energy efficiency, design covers a variety of features. From cross ventilation to window location and size there are an endless number of ways to increase the energy efficiency of your home during the design process. This is why speaking to a reputable builder is key.

Consider Orientation

Although it is often overlooked, orientation is one of the most important factors in the overall comfort of a home.

Use the right materials

It's also important to consider what materials your builders are using. Polished concrete floors provide excellent thermal mass in a home by harnessing the suns energy during the winter days to radiate that heat throughout the evening. Perfect for those cold winter nights.

Don't forget about landscaping

Deciduous trees provide excellent shading during the summer months, but also allow the suns warm to penetrate the home during the winter months.

Investing your time and money in energy efficient solutions during the early stages of a build will provide you with lower energy costs throughout the lifespan of your home, saving you money in the long term.

Don't waste space

If budget allows, build high and vast! Separate bedrooms and bathrooms with walls, but keep living areas open and free. There are a number of ways to maximise a sense of space in your home. Open plan living, high ceilings and door openings and floor to ceiling windows provide natural light, giving the illusion of open space.

Consider Renovating

If you love the location you live in, but your home is looking a little tired, renovating will give you more bang for your buck as far as cost goes. The substantial savings associated with agent's fees and stamp duties will provide you with extra cash to put toward your renovation project.

Invest your time and money with a builder you feel you can trust.

Trust and respect are two core values we adopt in developing strong relationships with our clients. We are committed to providing good old fashion customer service which also extends beyond the build process.